On the night of June 11, 21-year-old Trevon Cole and his nine months pregnant fiancé, Sequoia Pearce, were sitting at home in their Las Vegas apartment, settling in for a quiet Friday evening in front of the TV. But Cole didn't live to see the next day. Instead, he was the target of a drug raid and was shot and killed by a Las Vegas narcotics detective as he knelt on his bathroom floor, hands in the air. (Read our earlier coverage here.)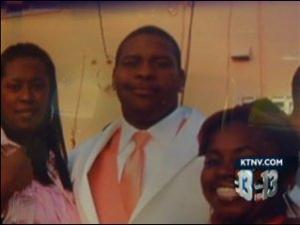 Since then, questions and outrage have mounted as the circumstances surrounding Cole's death have emerged. A coroner's inquest, which is done with all fatal shootings by Las Vegas police, is set for Friday. Given the history of such inquests — only one police killing out of 200 in the past 35 years was found unjustifiable — justice is unlikely to be done there.
The affidavit in support of the search warrant targeting Cole gave the impression that police thought they had a major drug dealer on their hands. Detective Brian Yant, the officer who wrote the warrant and who pulled the trigger on Cole, wrote that "almost all" drug dealers keep "sophisticated and elaborate" records and that police expected to find such records, as well as guns and drug paraphernalia. Cole had a "lengthy criminal history of narcotics sales, trafficking and possession charges," Yant wrote.
Police found no guns. They found no evidence of a "major drug dealer." They did find a small, unspecified amount of pot (Pearce contends they found no drugs and were angry they could not), a digital scale, a cell phone, and $702 in cash (of which $350 was found to have come from jewelry Pearce pawned days earlier to pay rent). Oh, and a spent .223 caliber rifle cartridge in the bathroom.
The search warrant affidavit also misidentified Cole, confusing him with another Trevon Cole from Houston, Texas. The other Trevon Cole had a different middle name, was seven years, older, is three inches shorter and a hundred pounds lighter. His "lengthy criminal history"? Three misdemeanor marijuana possession arrests. The only criminal record the now dead Trevon Cole had was for unauthorized use of a motor vehicle as a teenager.
via Coroner Probing Marijuana Raid Killing of Unarmed Man [FEATURE] | StoptheDrugWar.org.